Cornflake-crusted fish fingers
It may be the meal kiddie dreams are made of, but fish fingers can be so much more, when you make them yourself. It couldn't be easier...
Prep is all of five minutes and your oven does the rest. We used Cornflake crumbs instead of breadcrumbs to make for a seriously crunchy outer, together with plump, moist hake medallions. So really, they're not so much fish fingers as very generous fish thumbs! Two of these per adult makes for a satisfying, heart-healthy meal. A drizzle of lemon juice is all these fish fingers ask for. Gem lettuce, a dollop of mayo and boiled baby potatoes, if you want some carbs, and you're done!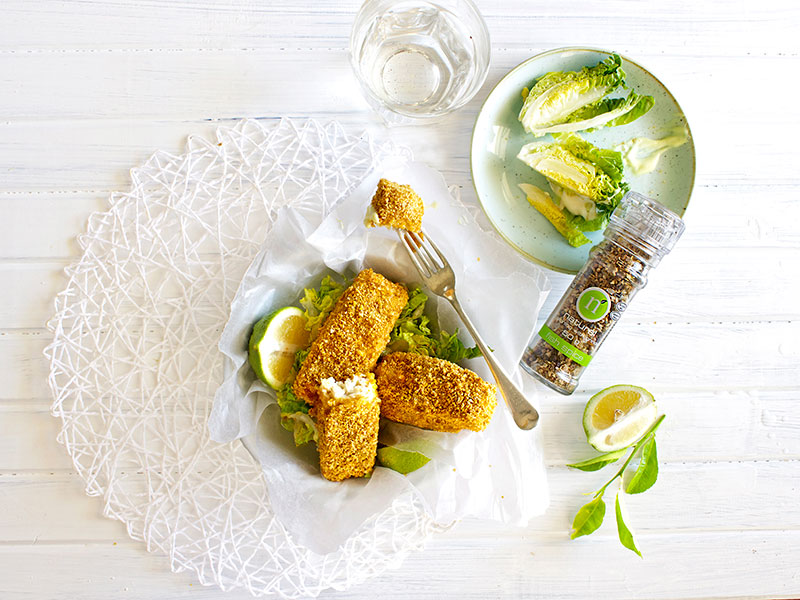 What you will need
Hake medallions
Generous sprinkling seasoning - Fish
Plain flour
Egg, whisked
Cornflake crumbs (available in supermarkets, or blitz in your food processor)
Method
Season the medallions generously all over with Naturals Fish Spice. Dip the medallions in flour and shake off the excess. Dip in egg, then dip in cornflake crumbs. Place on a baking sheet lined with baking paper and bake in a 170º C oven until cooked through. It takes 25-35 minutes depending on how plump they are. To test if the fish fingers are done, press them with your fingers. If they are very firm, they should be cooked through. You could of course always make doubly sure by cutting one open.
Recipe & photography by food stylist and blogger of everything yum, Lizet Hartley: http://www.melkkos-merlot.co.za