Veggie chipolata tray bake
Not in the mood to cook, but still want to put something wholesome and delish on the table? Then oven tray bakes are the answer! We teamed tiny pork chipolatas (you could of course use full-sized bangers) with all the veggies that pork really loves – fennel, heirloom carrots, shallots and sweet potatoes. Onto a tray they go with a generous sprinkling of our Natural Herbs and Spices Vegetable and Savoury Seasoning and it's into the oven. Half an hour and it's time to tuck in.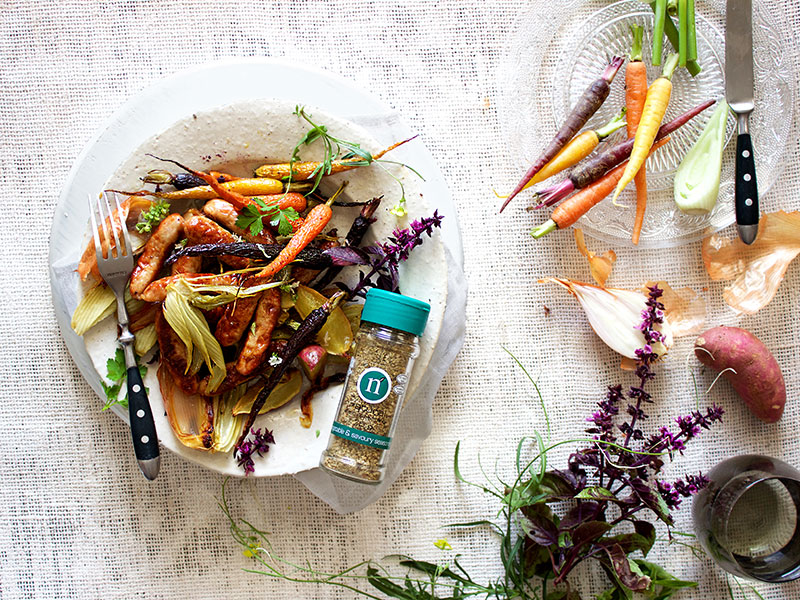 What you will need
500g pork chipolatas (or bangers)
2 fennel heads
4 shallots (or leeks)
8 small heirloom carrots
8 baby sweet potatoes
2 Tbsp extra virgin olive oil
1 Tbsp runny honey
1 tsp red wine vinegar
Generous sprinkling Vegetable & Savoury
Micro herbs to garnish (ie rocket & basil)
Method
Pre-heat your oven to 200 ºC. Wash and cut the vegetables into pieces that are roughly equal in size. Place vegetables in a bowl and pour over olive oil, honey and vinegar. Sprinkle over our Natural Herbs and Spices Vegetable and Savoury Seasoning and tumble to ensure vegetables are evenly coated. Spoon the veg onto a baking tray. Place the pork chipolatas in the same bowl the veggies were in and move them around to soak up the last of that honey and olive mix – you don't need much at all, just a thin coating will do. Place on the tray alongside the veggies and bake until cooked through. If the veggies are cut small, half an hour should do the trick.
Cook's tip #1: Chipolatas cook quickly, so if you are using them, ensure the veggies are cut to about the same size as the chipolatas. Bangers will take a few minutes longer, so you can cut your veggies slightly bigger. Either way, check your bake after 20 minutes, if the sausages are done but the veggies not, simply take them out and cover with foil to keep warm while you wait for the veggies to be done.
Cook's tip #2: To make washing up a breeze, line your baking tray with baking paper.
Recipe & photography by food stylist and blogger of everything yum, Lizet Hartley: http://www.melkkos-merlot.co.za