Beef shin & cannellini bean stew
The end of winter may be in sight, but there are still a good few weeks calling for cling-to-your ribs warming soups and stews. Beef shin is a marvelously affordably go-to cut for both soups and stews. Intensely beefy, it calls for low and slow cooking that fills the house with wonderful aromas. Our beef and cannellini bean stew is a complete one-pot meal. It starts with a sofrito base, adding loads of good-for-you invisible veggies. A whole can of tomatoes plus lycopene-rich tomato paste offsets that beefy richness. Scatter over a herby fresh parsley and lemon gremolata just before serving and you have yourself a winter winner!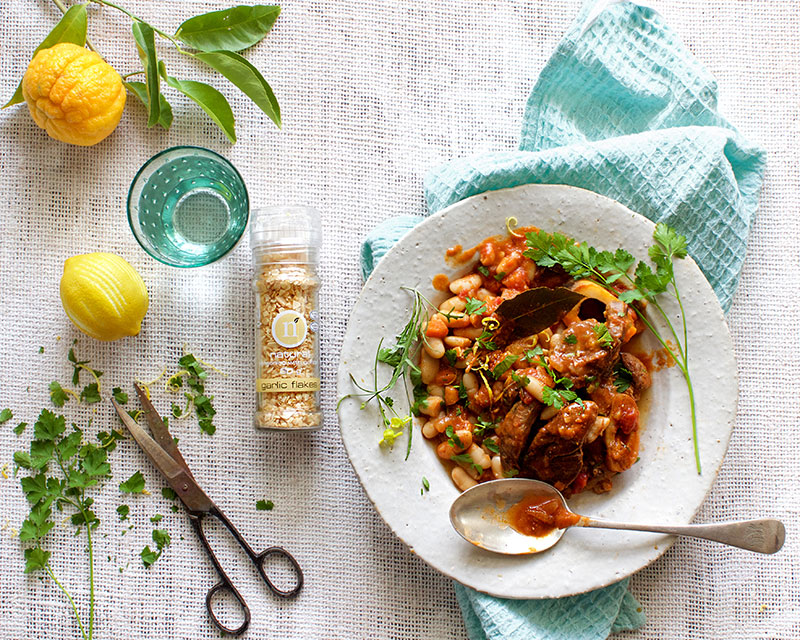 What you will need
600g bone-in beef shin
2 Tbsp olive oil
1 cup onion, very finely diced
1 cup carrot, diced
2/3 cup celery, diced
1 heaped Tbsp flour
3 level Tbsp tomato paste
1 cup red wine
1 cup water
1 tin chopped tomatoes
3 fresh bay leaves (gently crushed to help release the flavour during cooking)
1 ½ tsp Garlic Flakes
1 tsp paprika
1 pinch Cayenne Pepper
2 tsp salt
¾ tsp Ground Black Pepper
2 x 5cm sprigs fresh rosemary
1 tin cannellini beans
Handful of flatleaf parsley, leaves only, finely chopped
Finely grated zest of a lemon
Method
Heat a pan with olive oil and fry the shin until caramelized, then remove and set aside. Add onions, carrots and celery to the same pan and fry, stirring, until it they start to soften. Add the flour and stir until it disappears into the sofrito. Add the tomato paste and fry for a further minute before deglazing the pan by adding the red wine. Allow to bubble for a good half a minute, then add the water and the rest of the ingredients (except the beans, parsley and lemon).
Turn heat as low as possible, put a lid on and allow to gently simmer for 60-90 minutes until the shin is fall-off-the-bone soft. Lift out the rosemary stalks and bay leaves. Drain the beans and stir into the stew. Taste for salt and pepper and adjust if necessary. Combine the parsley and lemon and scatter it over the stew when you serve.
Recipe & photography by food stylist and blogger of everything yum, Lizet Hartley: http://www.melkkos-merlot.co.za