Breakfast egg muffins are low in carbs, satisfying and delicious. As most of us know, eggs are high in protein. Protein is essential for a healthy and balanced diet. So, why not start your day on a protein boost with these lovely savoury muffins, which are also filled with so much goodness #veggies. We thought to keep the flavours of the muffins simple, so we mixed in our Natural Country Herbs to give a robust flavour without over powering our main ingredient.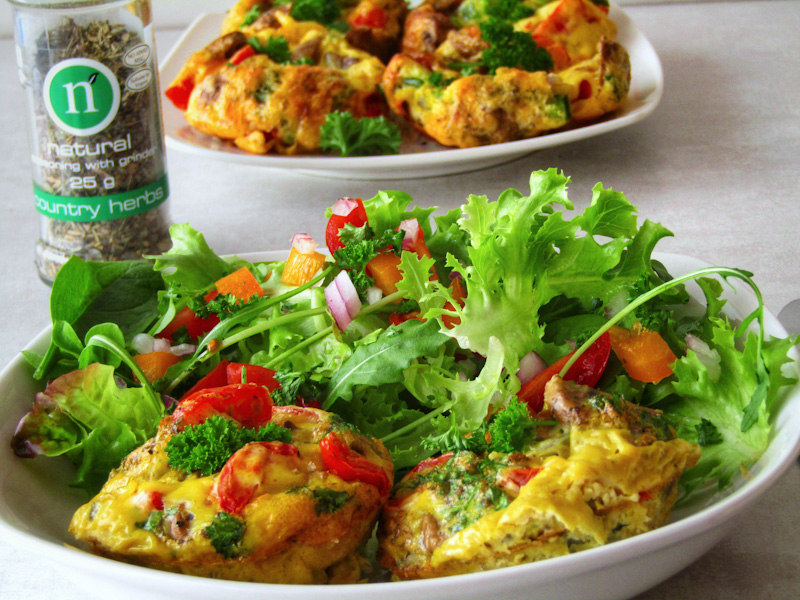 What you will need
MUSHROOMS
1Tbsp olive oil
125g mushrooms, washed and sliced
Natural Himalayan Salt to taste
½ tsp Natural Country Herbs
¼ tsp Natural White Pepper
EGGS
6 large eggs
Natural Himalayan salt and white pepper to taste
½ tsp Natural Country Herbs
½ green pepper, finely chopped
½ orange pepper, finely chopped
½ red onion, finely chopped
12 cherry tomatoes finely chopped
Method
Start by taking a large frying pan out and frying up the mushrooms in olive oil. Then season the mushrooms with salt, pepper and herbs. Cook the mushrooms for 5 minutes or until cooked.
Preheat oven to 180°C and lightly grease 6 muffin holes.
In a large bowl lightly whisk eggs, season with herbs, salt and pepper to taste. At the bottom of each greased hole, divide prepared vegetables, top with the egg mixture. Ensure not to fill the muffin hole to the top as the eggs will still puff up.
Time to bake the egg muffins for 20 minutes. Serve the eggs with salad or toast and enjoy.
Recipe & photography by food stylist and blogger of everything wholesome & tasty, Yena Mgobhozi: https://www.yourkitchen-newgym.com