Cajun Salmon Steaks with Pineapple Salsa
Bursting with good-for-you Omegas, salmon is a protein powerhouse. It's a treat raw or steamed, but it really shines when rubbed with your own home-made Cajun spice blend. Serve it with a sweet and sour pineapple salsa and something green and that's dinner done.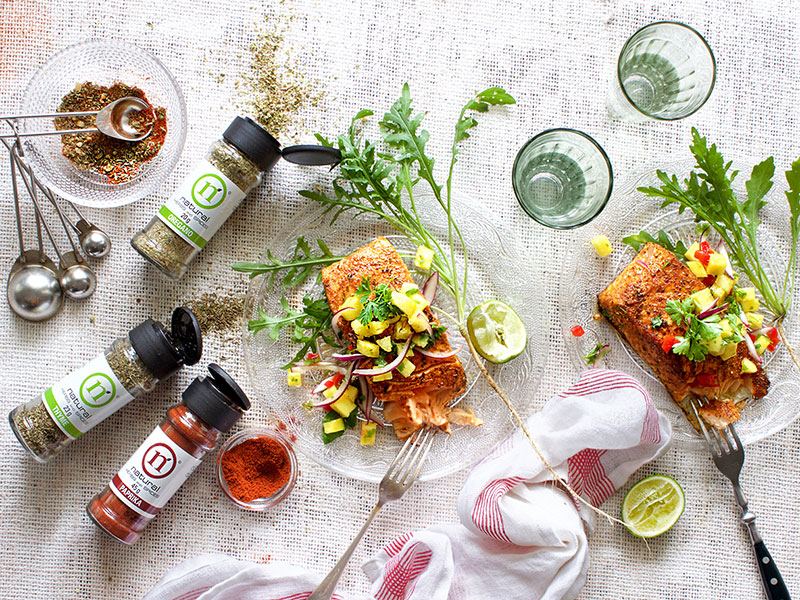 What you will need
1½ tsp Natural Paprika
1 tsp Natural Thyme
1 tsp Natural Oregano
1 tsp Natural Garlic Flakes
¼ tsp Natural Cayenne Pepper
4 salmon steaks
Sea salt
FOR THE SALSA
1½ cup diced pineapple
½ cup diced sweet red pepper
½ cup diced red onion
1 deseeded red chilli, finely chopped (optional)
Lrg handful coriander leaves, chopped
Sml handful flatleaf parsley leaves, chopped
1 Tbsp extra virgin olive oil
Juice of 2 limes
Pinch of salt
Method
Combine all the Cajun spices. Rub the salmon steaks with the Cajun spice, flesh side only – leave the skin clear. Rest for 30 minutes. Heat a non-stick frying pan over medium heat with a small splash of cooking oil of your choice. Salt the salmon all over and place fish skin side down in the pan. Semi-cover pan with a lid and fry salmon, skin side down, until three quarters cooked through. (Cook's Note: dry herbs and spices burn very easily when fried, turning bitter. By leaving the skin clear of spice and doing most of the cooking on this side, you'll get all the gorgeous Cajun spice taste and none of the acrid nasty.) Turn the heat right down and flip the steaks over for the final quarter of cooking.
Combine all the salsa ingredients. Serve steaks with peppery wild rocket, some green leaves and the salsa. If you are doing carbs, tiny baby potatoes boiled in their skin is a fabulously light, healthy addition.
Recipe & photography by food stylist and blogger of everything yum, Lizet Hartley: http://www.melkkos-merlot.co.za