Classic Chocolate Chilli Cake
Spicing things up this summer, with a delightful match made in heaven. A low carb chocolate cake, spiced with Natural Herbs & Spices Chilli blend.
The heat from the chilli's provide a tantalising warmth that infuses fabulously within the dark, rich, velvety and moist chocolate. The spiciness emerges after just one bite, pleasantly surprising your taste buds. It's a delicious warming taste, not a scorching hot explosion. So anyone and everyone can enjoy this cake whether you love spice or not.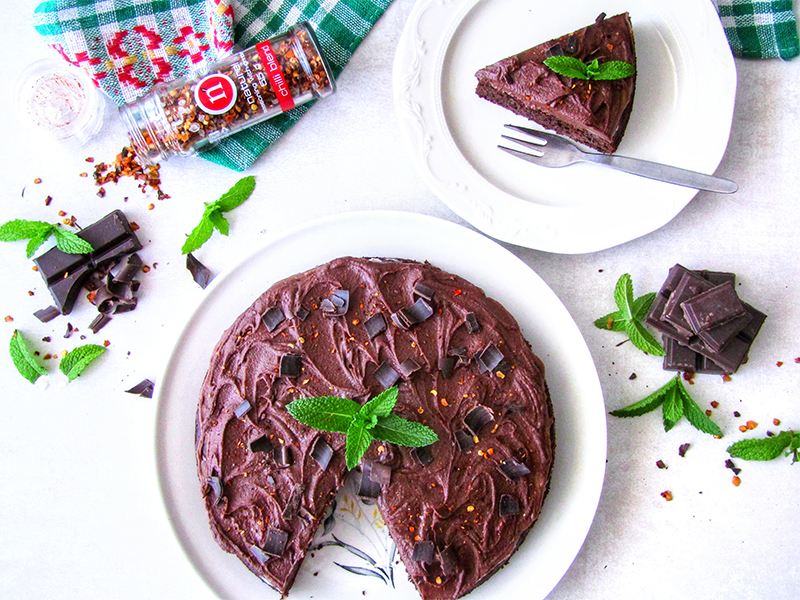 What you will need
CAKE
4 eggs
1 tsp vanilla essence
¼ cup coconut oil
¼ cup milk
¼ cup granulated sweetener of choice
1 tsp granulated coffee
¼ cup coconut flour
¼ cup cocoa powder
1 tsp baking powder
½ tsp bicarbonate of soda
1 ½ tsps Natural Herbs & Spices Chilli blend
CHOCOLATE FROSTING
200ml coconut cream
¼ cup dark chocolate chips
1 tbsp coco powder
Method
Start off by preheating the oven to 180°C and lightly greasing a small round cake pan. Then, in a large mixing bowl, whisk together the eggs, vanilla, oil, milk, sweetener and coffee until well combined. To the wet ingredients mix in the coconut flour, cocoa powder, baking powder, bicarbonate of soda and (the star of the show) Natural Herbs & Spices Chilli blend until well incorporated. Pour this luscious cake batter into your prepared cake pan and bake for 15-20 minutes or until a toothpick inserted into the center comes out clean.
Carefully remove the cake from the oven, just allow the cake to cool for a few minutes before removing the cake from the pan and inverting it onto a cooling rack, where it will sit and cool before being adorning it with a creamy and velvety icing.
Time to prepare the chocolate icing - in a small saucepan warm coconut cream until it starts to bubble around the edges. Remove from the heat and whisk in chocolate and cocoa powder. Continue to whisk until the chocolate is melted and the mixture is smooth and silky. Pour the mixture into a bowl and place in the fridge to cool and thicken up.
When the cake has completely cooled down, remove the icing from the fridge. Spoon on heaping of the icing onto the cake, spread on a generous layer of the icing on the cake and top with chocolate shavings and more Natural Herbs & Spices Chilli blend.
Recipe & photography by food stylist and blogger of everything wholesome & tasty, Yena Mgobhozi: https://www.yourkitchen-newgym.com