Low carb pizza? Yes we said it… its super easy, delicious and filled with appetizing ingredients. There is no reason why you can't have pizza every week. This guilt-free dish is jam packed with flavour, taste, and easily custom made to suit your very own pallets.
So go on, spoil yourselves and your loved ones with this healthy, mouth-watering pizza.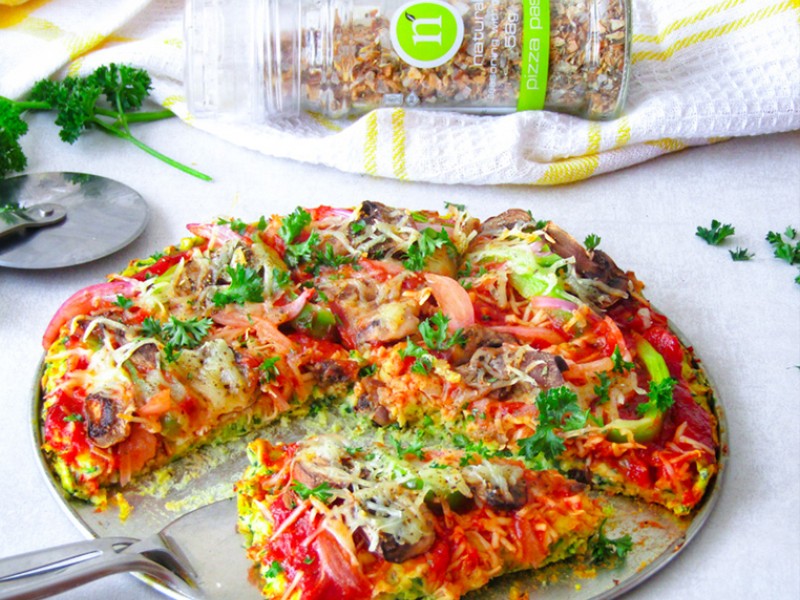 What you will need
Pizza Crust
4 small zucchinis
1 tsp nutritional yeast
3 Tbsp almond, whole wheat or chickpea flour
¼ tsp baking powder
Natural Pizza Pasta Seasoning
Black pepper to taste
1 egg (beaten)
Toppings
Pizza sauce
Mozzarella cheese
Mushrooms
Green pepper
Purple onion
Method
Start off by preheating the oven to 200°C and lightly grease a baking tray. Then, in a large bowl lined with a dish cloth, coarsely grate the zucchini. Use the dish cloth to squeeze out excess moisture from the zucchini. Then transfer the zucchini into a dry mixing bowl and add in the remaining crust ingredients. Gently stir until everything is completely combined.
Move the zucchini dough to the prepared baking tray and shape into a pizza crust. Bake for 10 -12 minutes until the edges of the crust are golden brown. Following that, spread pthe pizza sauce over the crust top with mozzarella and the vegetables – feel free to get creative and top the crust with any flavour combination your heart desires.
Lastly, sprinkle more cheese and grind over Naturals Pizza Pasta Seasoning. Bake at 180°C for 15-20 minutes until the cheese is melted and looks golden brown, then serve and enjoy.
Recipe & photography by food stylist and blogger of everything wholesome & tasty, Yena Mgobhozi: https://www.yourkitchen-newgym.com